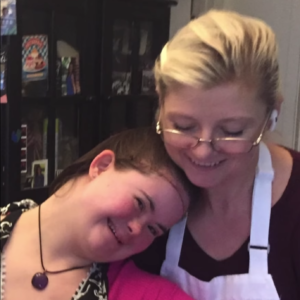 Dana Bellefeuille and The Village Bakery Story Helping those with special needs and disabilities
Accomplished Pastry Chef Dana Bellefeuille is owner and operator of The Village Bakery located at 190 W. Hayden Ave. (in the Hayden Super 1 Shopping Center). Over the last 18 years, Dana grew her reputation working in kitchens with chefs many of us know from The Food Network. She has established a name for herself across the region, even making cakes for the Space Needle Restaurant in Seattle.
But Dana has always wanted to combine two loves. That is, baking, and supporting those with special needs and disabilities. For the past four years, Dana's kitchen at home has doubled as a loving space where people with challenges can make their dreams come true, and a venue for baking her amazing delicacies. She has fulfilled furthering her mission by opening the storefront in North Idaho. This unique bakery with its special mission, offers many exquisite, tasty pastry delicacies, along with light breakfast and lunch items. Specialty soups are featured daily!
Her inspiration began with her own children. Dana has a son on the autism spectrum and a daughter with a physical disability., 
"My goal and vision has always been to have a place where people of all abilities can come and gain life skills, feel accepted, valued and recognized for their own special skills," says Dana. "I want them to connect with each other and hopefully learn skills to help them gain employment. I only want for others what I would want for my own children. My secret wish would be for everyone to see beyond stereotypes. Everyone has special talents. Everyone deserves a chance."
All of her bakers-in-training or ""The Bake-A-Tiers" as she calls them, have been volunteers building their skill sets.  With the storefront open, they are now employees and are continuing to grow in many areas.  Not only in baking, but communication, money management, working with others, following directions and many other important life skills.
Dana is also committed to helping the community.  The Village Bakery has participated in many fund-raisers and will continue to donate time and product. Last year, Dana and her helpers made Cocoa Bombs and raised $10,000 for the Panhandle Autism Society, a non-profit organization which supports individuals on the autism spectrum and their families. 
"I want to mentor and help my workers to fulfill dreams, become proficient and expand their horizons," says Dana. "We've had teams of five, six people at a time donating their time and effort to come in and join me, side by side. "I tailor to each person's ability. Their can-do attitude is amazing. I love every minute of it."
Dana was recently honored with two awards. Soroptimist International of Coeur d'Alene selected Dana as an award recipient for the "Women of Distinction" in the Business and Professional Category for 2021. In addition, the Spokesman-Review in conjunction with Bank of America named Dana one of the 2021 Women of the Year.
Phone: (208) 770-8733
Facebook: https://www.facebook.com/The-Village-Bakery-642188376247354